29 September 2017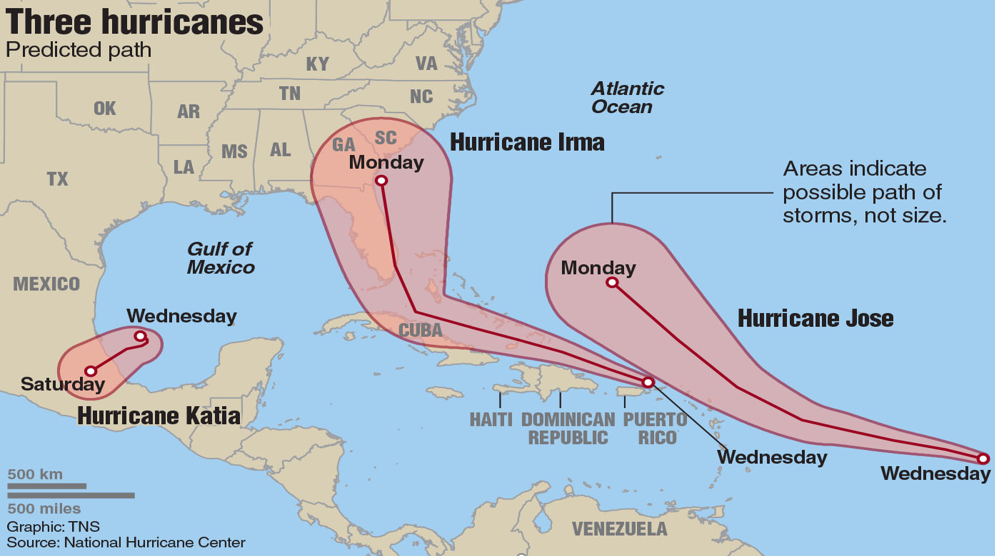 Atlantic hurricane season is in full force with 11 named storms forming thus far and another 5-9 predicted before the season ends. The eighth of these storms, Hurricane Harvey, made landfall in Texas on August 25th as a Category 4 storm, causing 70 deaths and devastating flood damage to Houston and other parts of Texas and Louisiana.
While the hurricane was first and foremast a human tragedy, it also had an impact on US energy and shipping infrastructure. At the height of the storm, more than 4 mb/d of US refining capacity was offline, as was ~800 kb/d of oil production in the US Gulf and Texas shale regions. In addition, the closure of major ports such as Houston and Corpus Christi caused significant vessel delays and tightened the supply of available tonnage in the US Gulf / Caribs region.
As shown by the chart, the main beneficiaries of these disruptions were the trans-Atlantic MR market and the Caribs Aframax market, with rates spiking at the end of the month to around $20,000 per day on both routes.
Hurricane Harvey has now passed, and it doesn't appear that there will be too much long-term damage to energy infrastructure as there was following Hurricanes Katrina and Rita in 2005. However, the storm season is still in full swing, and last weekend saw the arrival of Hurricane Irma, one of the strongest Atlantic storms ever recorded. While this hurricane has caused devastation to Caribbean nations and to parts of Florida, it's impact on the tanker market was far less as it largely avoided sites of oil refining / production.
Looking ahead, reduced US Gulf refining output has boosted Asian refining margins to a 2-year high and led to a widening of the Brent / WTI spread. This could encourage imports of US crude by Asian refiners, which would be positive for ton-mile demand and provide a much needed boost to crude tanker rates in what has been an otherwise poor third quarter.